Nomad Sculptor
Gordon Goulden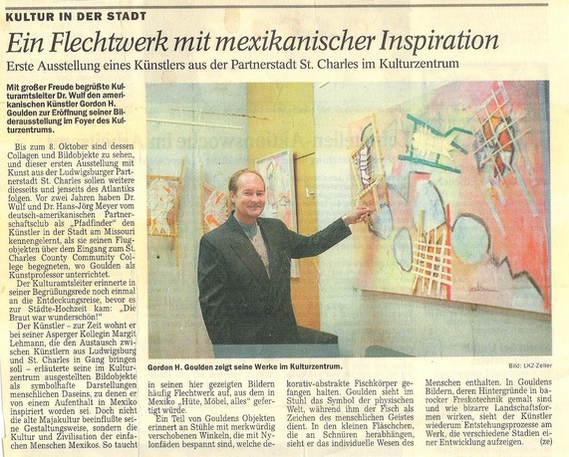 1997, this is Gordon's first International Solo Exhibition. The Cross-Continental show was set in Germany but inspired by his sabbatical in Mexico. This show was the germination of his use of the sculptural elements of weaving and 3-D recognizable imagry. This technique has dominated his style for the last 12 years.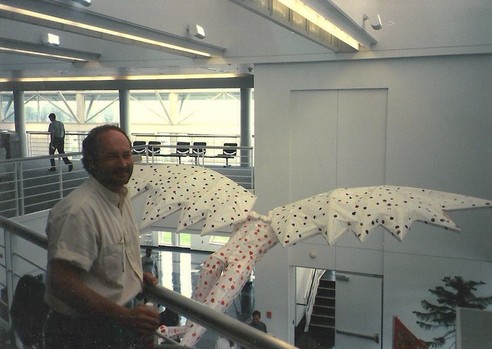 Gordon, 1994, with Icarus, installed in the Main Building at the St. Charles Community College
"Gordon is a storyteller first, in art and fiction, so the books are part of his oeuvre, an assessable and affordable example of his artistic statement. "


Here's what some of Gordon's readers have said about his books:
"Put your hands here...." took me on a ride sharing deeply in the two protagonists agonies, extacies and exquisite journies as they drove onwards toward their shared fate. The nameless characters are rich, colourful and lovable for their beautifully shared frailties. The plot teases, twists, hides, and surprises. The characters that inhabit the plot with the protagonists are compelling too and had me in the scene experiencing the journey and living the interactions.

Goulden's writing style is atypical. It took an hour or so to get used to very short chapters of a few pages switching back and forth between the paths of the two protagonists, but the pace he builds is compelling, and the style becomes entrancing.

The book introduces in a very creative storyline a great many fascinating subjects from reincarnation, karma, life purpose, free will, intuition, guides, and wikka.

Goulden is a clever and imaginative writer who has a unique style of his own. I will go in search of other works from him."

P. Auckland


From the Painted Stick' is a well structured novel with chapters alternating between the past and the present culminating in the meeting of the two. The writing is incisive and thought provoking and many times throughout the novel I found myself musing upon the observations and situations expressed by the author. With an even pace and original storyline it kept me engrossed and wanting to know where the story was going to take me next...I wasn't prepared for where it took me at the end when it delivered a conclusion that I didn't see coming! Great ending! Definitely worth a thumbs up.

Marc